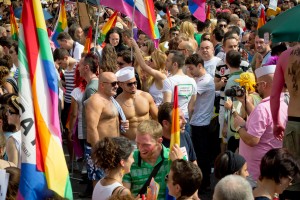 PrideOne Travel and Cruises uses our years of experience to assist you with creating a trip that caters to your individual needs. As a gay owned and operated full service travel agency, we are well aware of the upcoming Pride season held throughout Europe. Allow us to help you decide on your itinerary by highlighting the most popular Pride Celebrations in Europe for 2014.
Christopher Street Day (CSD) Berlin has close to 200 events and is definitely one of Europe's largest pride events. It consists of parties and events that play to Pride participants differing tastes. The festivities conclude with a parade put on for over 500,000 spectators.
Now in its 6th year, Barcelona continues to strive to top itself every year. They know that Spain is already well recognized for its LGBT rights and its massive Pride celebrations in Madrid. This year, they've put together 10 days of culture, sports, entertainment, and parties. Best of all, Pride Barcelona is a free, not for profit event.
Gay Pride London strives to present an inclusive experience for its diverse participants. The events feature a ton of parties, concerts and cabarets, sporting events, films, food, and of course, the parade. The Pride in London Parade takes place on the Saturday, where over half a million participants head to the centre of London to enjoy the spectacle.
If you thought Paris would be too stuck up to enjoy a flamboyant pride celebration, then you'd be wrong. Every year, there are a ton of events, concerts, and parties that take place. There will be a number of circuit parties this year under the Paris Circuit Party banner, but there's still the free Pride march and tons of other events too.
Spain is known for its support of LGBT rights and Madrid has established itself a major player in Pride celebrations. They have a range of events including a stiletto race, Mr. Gay Pride Espana, tons of parties and concerts, plus their magnificent Pride parade.
Amsterdam Gay Pride offers something completely different – a parade through a canal. One hundred decorated boats sail through the Prinsengracht River, while over 350,000 people watch each year. Prior to the Grand Canal Parade, pride partygoers can enjoy a ton of concerts, street parties, and sports tournaments throughout the weekend.