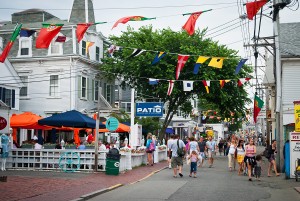 Here at PrideOne Travel and Cruises, we know the importance of enjoying the summer travel months. One of our top locations is beautiful Provincetown. Its high season of May-September may be short, but it provides an excellent opportunity to travel to a gay friendly location. Here are some of our tips forwhen visiting Provincetown.
Daylight Exploration
While the nightlife in Provincetown is a sight to be seen, be sure to explore it during the day too. You'll find a number of beautiful beaches, amazing sand dunes, hiking spots, and cycling friendly trails. Plus, one must visit the beautiful boutiques and art galleries found along Commercial Street.
Foodie Finds
Provincetown will never leave you hungry. There are many great restaurants including those that come with a view of the harbor. Depending on your foodie tastes, there's the option of casual fare (i.e. Grand Central, Cafe Edwidge, Bubala's By The Bay) or more upscale (i.e. Ceraldi, Fanizzi's By The Sea, Lobster Pot).
Nighttime Festivities
Everything closes at 1am; be sure to arrive with enough time to enjoy the party. There are lots of nightlife options to choose from. You can go with a quiet atmosphere (i.e. Gifford House, Aqua Bar, Monkey Bar) or the club scene (i.e. Paramount, Atlantic House, Club Purgatory).
Provincetown is indeed a popular summer travel location. Be a part of the excitement by booking your trip with PrideOne Travel & Cruises. We partner with gay friendly companies to ensure that you will have a safe and enjoyable excursion.