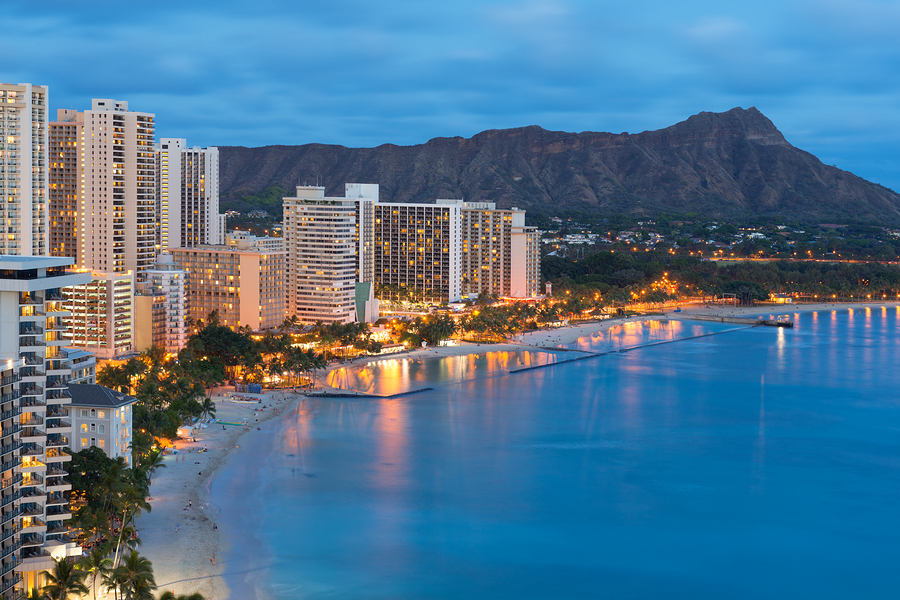 Honolulu is located on Oahu and is where 75 percent of Hawaiians live. With its beautiful beaches, welcoming shops, delicious restaurants, and active nightlife, Honolulu remains a popular destination for gay travelers. PrideOne Travel and Cruises is very familiar with Honolulu, as we run our Aloha Gay Group Cruise from there. This small gay group cruise includes an exclusive pre-getaway stay in Honolulu. With our years of expertise serving gay clients, here are our top tips for your visit to Honolulu.
Get into the blue.
You're in Hawaii; we insist that you visit its many beautiful beaches. You can go snorkeling with the dolphins and tropical fish. There are numerous surf schools that are ready to take you from a grom (slang for a beginner surfer) to a master of the ocean. If you'd rather rest up, then sit back and sun yourself on the beach and enjoy the sights around you. When looking for other gays, the beach to visit is the Queen's Surf Beach.
Purchase yourself some luxury.
If you can pull yourself away from the beach, you'll discover that Hawaii is a shopping destination. Take a visit to the Ala Moana Center and you'll find several floors of top fashion, music, entertainment, and accessory stores. If bargain hunting is a passion of yours, then visit Waikele. Here, you'll indulge in your passion for affordable goods with over 50 discount outlets there including Barneys, Saks Fifth Avenue, Adidas, and much more.
Hike to the local attractions.
If you're willing to hike, there are a lot of options to discover in Honolulu. You can do the Makapuu Lighthouse Hiking Trail, which is an easy hike with a moderate incline. The walk is worth it with the picturesque views and you may even spot a humpback whale or two offshore. If you'd like to see a spectacular view of the island, then take the Koko Head Crater Trail Hike. It's a short walk, but you will be walking up to an elevation level of 1200 feet. After seeing the amazing 360 degree views of Oahu and the Pacific, you'll know why we recommend this hike.
Indulge in the evening festivities.
You'll find that most of Honolulu's gay nightlife is centered around Waikiki. Here, you'll find a cross section of people from US military members to international tourists and of course, locals. Where you go depends on your tastes, there's lounges (i.e. Bacchus), line dancing (i.e. Blazing Saddles), a sports bar (i.e. LoJax), and even karaoke (i.e. Wang Chung's).
PrideOne Travel and Cruises adores the beauty of Hawaii. So much so that we created the unique Aloha Gay Group Cruise. This is a 7 night cruise from February 13-20th, 2016 aboard Norwegian Cruise Line's Pride of America. As an added bonus, prior to boarding, we will spend a few days in Honolulu. Here, you'll be able to put our top tips into action. Whether it's shopping, snorkeling, hiking, or dancing, Honolulu offers something for everybody. Contact PrideOne Travel and Cruises to book your one of a kind trip to beautiful Honolulu.