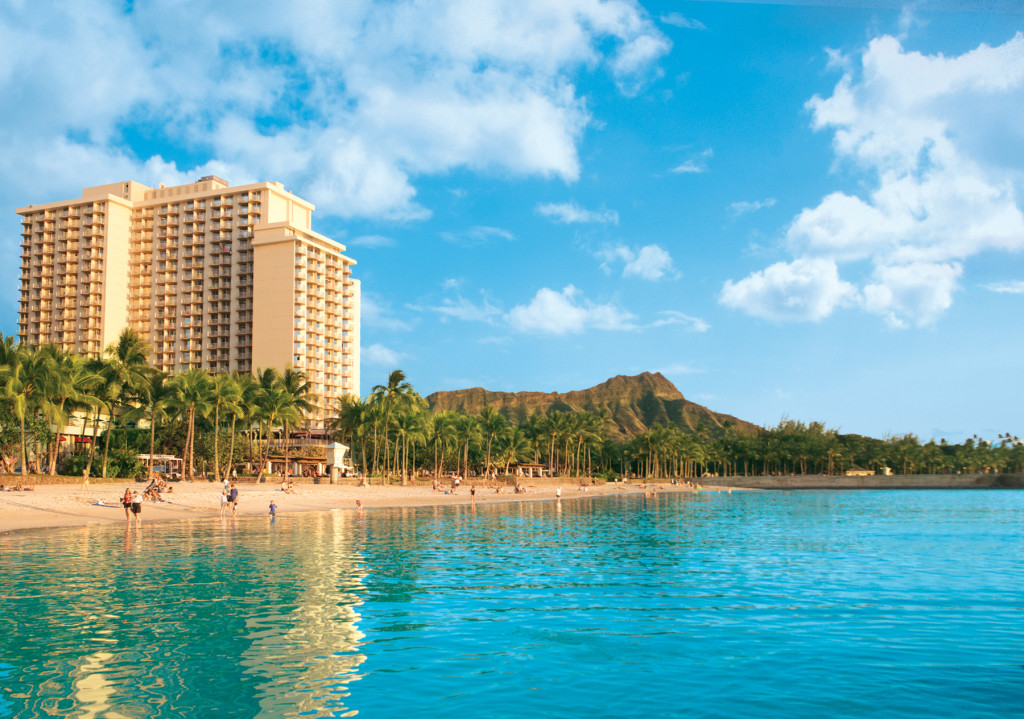 PrideOne Travel and Cruises is thrilled to have created the Aloha Gay Group Cruise. This small gay group cruise is for 7 nights and is being held February 13-20th, 2016 aboard the beautiful Norwegian Cruise Line's Pride of America. As part of our cruise, we offer an exclusive pre-getaway stay in Honolulu. We are excited to announce that we have officially signed a contract with Aston Waikiki Beach Hotel to be our exclusive accommodation.
PrideOne Travel and Cruises selected Aston Waikiki Beach Hotel due to its proximity to shops and restaurants, gay friendly atmosphere, and for its upscale rooms and dining features.
Proximity to Shops, Restaurants, and More
While staying at the Aston Waikiki Beach Hotel, you'll discover that it's conveniently located on Waikiki's main thoroughfare. This provides you with easy access to a number of nearby shops, restaurants, and attractions too.
Gay Friendly Atmosphere
The Aston Hotel is well known for being both a beautiful and gay friendly property. Best of all, the hotel is located right across from the beautiful Waikiki Beach. As well, you are a quick 5-minute stroll down to Queen's Surf Gay Beach. Queen's Surf Gay Beach is well known for being the most popular gay beach in all of Hawaii.
Stay in Style
When staying at the Aston Waikiki Beach Hotel, you will be residing in their contemporary guest rooms and suites. They offer full or partial ocean views with 85% of their rooms. Plus, most of the accommodations come with a private lanai (balcony) that provides breathtaking views of Waikiki Beach.
Along with the spectacular accommodations, you have a number of options for dining onsite. You can enjoy their signature breakfast on the beach every morning from 6:30-9:00 a.m. Breakfast is served poolside with Hawaiian music playing in the background. You can enjoy a continental breakfast with freshly brewed Kona coffee, fruits, baked goods, and cereals.
Your onsite dining options also include a Subway for those in the mood for a quick bite. Plus, there's a Cookie Corner if you have a sweet craving. You'll also find Tiki's Grill and Bar, which is a nice homage to the iconic tiki bars from the 50's and 60's. Finally, there's the Wolfgang Puck Express that serves up sophisticated fast cuisine by famous chef, Wolfgang Puck.
Our Aloha Gay Group Cruise comes with the exclusive option of attending the 3-day pre-cruise getaway. At the affordable price of $579 per person based on double occupancy, you'll stay for 3 nights at this beautiful hotel. Plus, we can arrange for airport meet & greet (subject to arrival time), transfers from airport to hotel and hotel to cruise ship, hotel porterage fees, welcoming party (subject to availability), gifts, and optional daily excursions (additional fees apply).
We cannot wait to share our love of Hawaii with you on our Aloha Gay Group Cruise. We provide this small gay group cruise with personalized services suited for you. Don't miss out on this exclusive opportunity with PrideOne Travel and Cruises. Book your trip today by visiting alohagaycruise.com/now.